You need to bill your client for the job completed
And then another potential client or your existing customer has requested for a quote.
Whether you are the founder of a small company or a professional running a niche business or work as a freelancer, these are the essential documents that are needed for running a business successfully.
An invoice correctly generated and sent on time, ensures you get paid for the job done, which is a vital part of any career.
Moreover, creating and sending quotes to clients in a professional format can go a long way in boosting your conversion rate.
Hence, the demand for employing business tools like Invoice & Quote Generator is growing among entrepreneurs and freelancers alike to increase work efficiency and reduce time-consuming paper processes.
Here, using a professional invoicing app or software such as Invoice Ninja becomes beneficial for freelancers and small to medium-sized businesses. These platforms will assist you in automating and structuring the invoice, billing, and payment processes and function smoothly by tracking your income, expenses, and time accurately.
How Invoice Ninja Tool Raises Business Competency?
Invoice Ninja is a web-based invoicing platform that takes the pain out of billing process. It lets you stay organized with your business accounting plan and maintains your business operations to run efficiently.
It is an online payment management tool, so you can access it from any place to keep track of your financials all the time. Invoice Ninja is an excellent selection for small business owners, freelancers and professionals that prefer to ease their processes of quote and invoice generation.
This program lets you invoice the clients, collect the payments, track expenses, time tasks, and more. You can tailor the software for your specific business needs by adding various integrations and payment gateways such as PayPal, Braintree, WePay, WorldPay, 2CheckOut, Mollie, PayFast, Stripe and many more, to receive payments automatically.
With these integrations, you make it convenient for clients to make payments quickly using their preferred payment channel, which ensures you to get paid swiftly on time. It fast tracks the payment process, allowing your clients to pay you directly without having to leave the system.
You can also integrate it with various small business apps like Slack, MailChimp, Gmail, and more, which you need for regular operations of your business. Also, lets you customize the invoice template and design it, as per brand needs.
Invoice Ninja is also available as mobile apps for iOS and Android devices, allowing you to synchronize your company accounts across desktop and mobile devices seamlessly.
Therefore, using Invoice Ninja ensures you never have to worry about managing your business finances.
You need to sign up with Invoice Ninja as a user to start organizing invoicing and getting paid online. Here are the four steps:
– Register with Invoice Ninja and confirm your new business account
– Add your company information, logo and look at the invoice designs
– Set up one of 40 popular online payment gateways to facilitate customers to pay you directly
– Create bespoke invoices that permit customers to make payment to you without even leaving the system
Invoice Ninja provides three different plans, each offering various useful features. Here is a board outline of its elements to help you pick the right service that suits best for your business needs.
Know the Plans
There is a comprehensive free option – Forever Free plan, which is an ideal choice when you need a billing software for basic use. There are also two additional plans, namely the Ninja Pro Plan and the Enterprise Plan, offered for monthly fees [paid on an annual basis], giving you extra abilities and features. And even a free trial period is available for you to test, best satisfied and then pay for the chosen plan.
Forever Free Features
When you don't have many clients to invoice then Invoice Ninja's free version serves well for your needs. Small businesses, professionals and freelancers all will find value features and robust functionality and uses in this online platform.
You can process unlimited quotations and invoices in real-time for up to 100 clients, and immediately send it to your customers. The online software allows the users to create beautiful, professionally crafted invoices, which their clients can receive and check online, even download and print on paper as per their needs.
You have four professional invoice and quotation templates under the free options, in which you quickly add clients and project details and branding elements like a company logo to customize to reflect your company's identity.
You can automate billing and recurring invoices for your clients to send them weekly, monthly, quarterly or annually (as required), which saves a lot of your precious time and efforts to focus on other operations. Pre-set recurring invoices help you maintain a steady stream of income.
Then set up vendors list and regular expenses on this system, and integrate over 40 payment gateway options, facilitating clients to make payments automatically through their favoured medium.
The other features include time-tracker web tool and desktop icon suited for time-based projects and services, where you can track work and accurately invoice your clients by the hour or minute.
The additional suit of its elements includes product/item library management, proposals creation tool, design template, Kanban boards to manage projects and tasks. The program also enables the setting of tax rate per line or invoice total and set alerts for invoices when they are sent/viewed/paid and get emails delivery statistics and client-side invoice and payment history on the portal.
Moreover, the platform lets you accept partial payments as a deposit and updates the invoice automatically about the part payment, keeping your records transparent and up-to-date.
It also lets you set up credit card gateway fees, get multiple currency support and create a real-time invoice pdf. You can track client invoice views and logins, and receive appropriate help for Google Analytics eCommerce, making it a most valuable business tool.
Pro Plan Features
Go for a Pro Plan, when you want to create unlimited invoices and quotes for a large number of customers, that is, over the 100 client limit mark. You will get all of the benefits of the free option plus the additional features like ten professional invoice and quotation templates and custom URL option. This plan gives you the chance of having no mention of InvoiceNinja in the invoices and the choice of the password-protected client-side portal.
Also, you can automate reminder emails for payment, get multiple custom invoice designs and modify your invoice emails and subject lines before sending them to clients. Even sending of bulk emails of invoices and quotes is permitted and lets you add client's e-signature on invoices. There is a range of extra features available including the option to enable clients to approve terms checkbox, create different reports, client statements and charts, buy now buttons that redirect to invoices and embed invoices as iFrames on your site.
Enterprise Plan Features
Enterprise Plan has some premium features over and above the benefits of Forever Free plan and Pro Plan. Here, you will get a wholly branded client portal links, options to add a custom background image to the invoices, create additional users and place access permissions and attach third-party files to invoices and quotations. Enterprise Plan has different tiers – first one, allowing a maximum of 2 users and other options are 3 to 5 users, 6 to 10 users, and 11-20 users, depending on the monthly cost you pay for the plan.
Invoice Ninja Pricing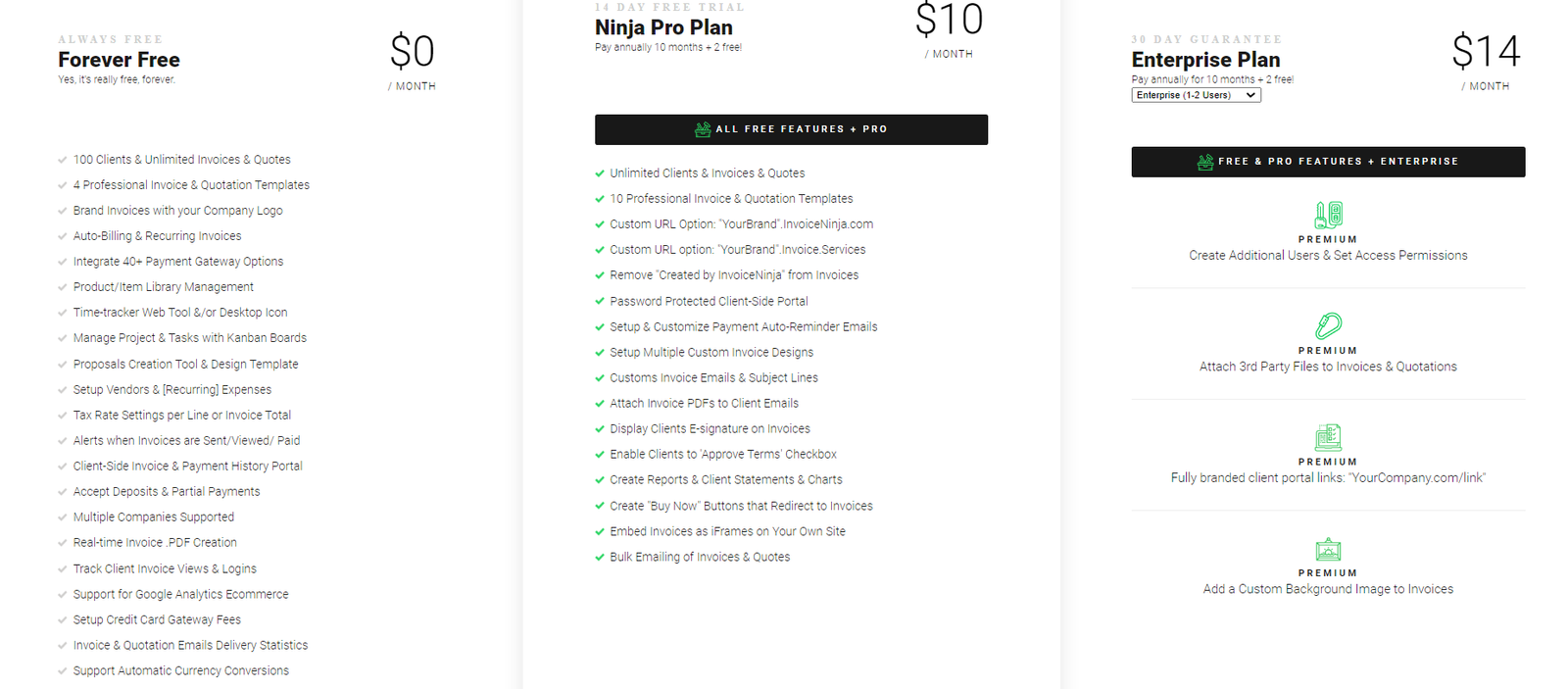 Forever Free plan is naturally free as the name suggests.
Invoice Ninja Pro plan charges are $10 per month.
Enterprise Plan starts at $14 for a month – upto 2 users, $26 per month for 3 to 5 users, $36 per month for 6 to 10 users, $44 per month for 11 to 20 users.
Both Pro plan and Enterprise Plan, you pay annually for 10 months and get 2 months free. So, for the Pro Plan pay $100 per year and the Enterprise Plan for a maximum of two users is $140 a year.
The verdict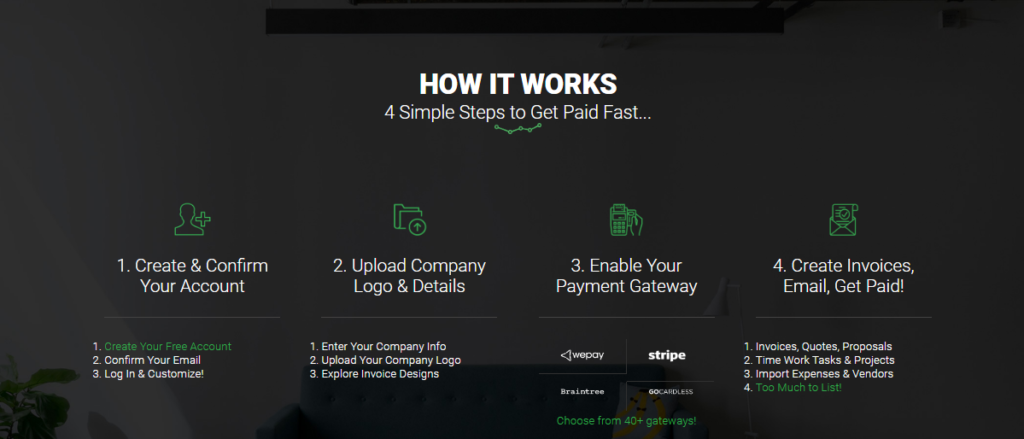 Invoice Ninja is an easy-to-use business payment management tool offering various benefits, which make it work well to meet every business size and need. It is an ideal companion to make your invoicing system work efficiently, up-to-date, and even well customized to reflect your business image.
It is an online open-source platform that is built and its features continuously enhanced to match the changing requirements of entrepreneurs and freelance professionals, and even address the requests and complaints of the end-users.

Related Posts:
8 Best AI-powered tools to power up your LinkedIn profile
7 powerful video makers to boost video content capabilities