In the new era of high penetration of the internet and social media platforms, videos have a very vital role in the brand's marketing strategy. Video content is a perfect medium to interact and engage with new and current audiences.
It's a crucial tool and when used in conjunction with social media channels, can effectively draw potential customers and visitors' attention towards your products and services.
Social media platforms, nowadays, provide smooth and enhanced accessibility to video tools, allowing the users to go live or upload and share the video content for active client engagement and marketing.
This rise in importance and need for video content marketing has resulted in a growth in the availability of apps and software that can assist users in the building creative video content.
Here are a few tools that effectively support you in the creation of a robust video marketing strategy.
Service: Transforms content into videos
What it does: InVideo assist users in converting content into creative videos, easily within seconds. This makes it an excellent tool for media companies, small businesses, and brands, who want to develop video content, be it for youtube, social media, or short video ads to engage the audience.
How it works: There are various features in this AI-powered platform to assist you in creating an engaging video. The app is equipped with hundreds of templates and around three million stock images. You also have a selection of vast music library of videos, copyright-free music and HD automated voiceover option, speed adjustments, advanced editing features, text overlay and custom font uploads, giving extensive options for video production.

It provides you the choice to customize the template, ideally assisting you in creating different categories of videos suitable for varied online platforms. You need to plug the content into your chosen templates for different video types, and then the software does the job for you. And if you are not satisfied with the app, they offer you 60-day money-back guarantee, without asking you the reason.
Standout features:
– Create marketing videos in a hassle-free way
– Board selection and range of pre-made templates
– Allows to trim or extend the video clips easily
– Customer support is fast and responsive
Price: $20/month/user (Free Version also available)
Service: Creates explainer animated videos
What it does: This whiteboard video creation software gives you a digital board, where you can pull in images, sketch characters, write text, and creatively present your desired information, producing attention-grabbing animated videos. You can draw all types of objects to entertain and engage your audiences. The tool is useful for creating educational, promotional, marketing, social media, and special occasion, explainer videos.
How it works: The software is easy to use; you have a vast library of images, select and drag it on the canvas (the drawing area) and the software sketches the picture for you automatically. Change the colour of the canvas; you have options of whiteboard, blackboard, greenboard, and even glassboard. This application stocks 200 professionally drawn character images, 20 different background scenes, hundreds of props covering every niche, and a board choice of royalty-free audio backgrounds suitable for any genre, plus provides the advantage of adding your custom images.
You can even upload your library image, and let Doodly Smart Draw technology create point-and-click draw paths for you. There are voice controls to increase or decrease the volume level and options to add voiceovers or other sound effects into the video effortlessly. So, you can make videos, export and save your video with a click of a button and upload them to your website and other social media channels. And if you are not satisfied with this program, you can get your money back within 30-days.
Standout features:
– User-friendly interface to create whiteboard animation videos in just minutes
– The software can be installed on multiple computers
– Stocks a vast array of custom images and audio libraries
– Make videos offline; no internet connection needed to use it
Price: $39 per month (standard) and $69 a month (enterprise edition) for an annual subscription.
Service: Produces explainer video content
What it does: Visual explainer videos content is a valuable marketing tool that helps raise visibility and audience footfalls. Toonly is easy to use software for creating informational or tutorial videos without any whiteboard. These are cartoon explainer videos that disseminate ample of information (both visually and audibly) within a short period. Use them on the landing pages, for Facebook ads, video sales letters, different social media company, product pages and many more. It lets you communicate the subject engagingly with your audiences, grabbing and sustaining viewer attention, and supporting brands to convert prospective customers to clients.
How it works: With Toonly, you need to drag and drop things to create the cartoon explainer videos – visually narrating engaging tales that will help you get your point across quickly. Begin by selecting a scene or background of your choice, then drag and drop objects from the library – pictures, audio, and text (only in the form of large headings). You can even add and record voiceovers to the video. Once done, save the file and export it to your desired platform.
There is a library of pre-made objects, people, music and scenes that come with inbuilt animation. If you are not happy with the pre-loaded stock for your project, the program also allows you to upload your collection of pictures – people, objects, or background images to tailor your video. However, these custom images cannot be animated.
Standout features:
Create unique videos with several thousand customs (not stock) images
With a single subscription, install the software on multiple computers
The tool is regularly updated, promptly fixing any bugs in the program
Price: Standard edition $39 a month and enterprise edition $69 per month (billed annually).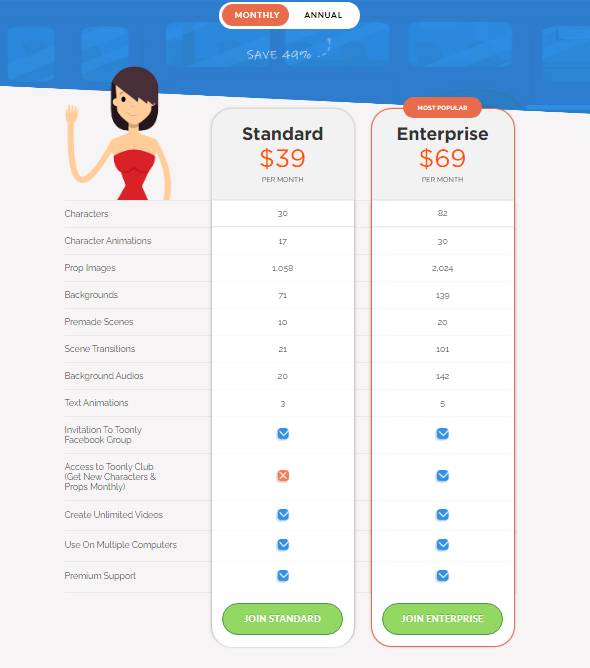 Service: Online video editor with artificial intelligence
What it does: Lumen5 is a web-based video editing platform, powered with artificial intelligence. This online service uses intelligent text analyzer to convert text into videos quickly and easily, allowing businesses to enhance engagement with clients. This easy to use tool creates videos suited for social media channels, websites, blogs and more.
How it works: Lumen5 requires you to enter the text and then transforms it into a storyboard by auto-selecting pictures and audio, producing winning videos for your viewers. You can replace the auto-selected scene with your preferred one from the media libraries. Pick the music from thousands of royalty-free options or insert your video clips and photos to make custom videos. The platform can create a single scene or even sub-scenes.
It also lets you have some control over the animation of pictures with options like "Pan down" or "Zoom in" and more. There are also customization options in paid tiers, where you can switch to a different theme, add a watermark, or set background colours, font, text animations and scene transitions. You can also store Brand Presets of specific settings, which in future you pick and continue using them to speed up the workflow considerably. Once the video is done, upload directly on the social media channels or download it to your device and use it when required.
Standout features:
Use AI-technology to create storyboards
Stores brand presets of specific settings for future use
Lets you edit your video further when needed.
Price: Community plan is free, Premium plan – $59 a month, Business plan -$149 a month (billed annually)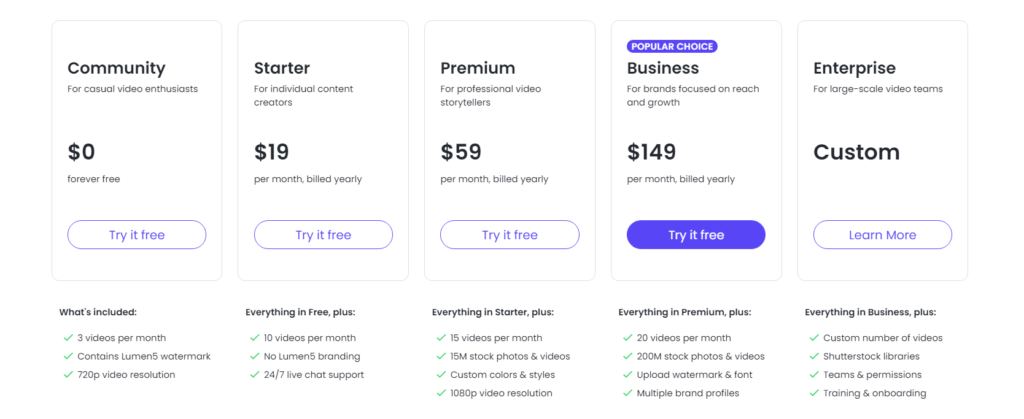 Service: Build custom animations videos
What it does: This video animation software helps you create impressive explainer videos with 2D and 3D characters for all occasions and purpose. Create custom animations using motion presets and templates, easily within minutes. The platform is useful to make stunning promotional and teaser videos, lower third animations, logo stings, YouTube content videos, eCommerce ads and sales videos, mobile stories, videos for social media platforms and more.
How it works: The platform has a drag and drop timeline editor, easy to use interface, allowing both experienced and beginner to design videos. You have motion presets panel, pre-made lifelike 20 animated characters, vector shape library, 100+ Animated emojis, 40 done-for-you templates, structures, assets, and elements to produce complex video animation effects easily few simple clicks.
You have to pick the element you want to add, click and drag it on to the canvas, edit it, repeat the process, and then publish the video. Itsamazing functions and ease of use to create and edit custom animators make it suitable for various kinds of users.
Standout features:
Both usual and animated videos can be edited
Gives access to supreme, colourful and 3D characters
Four packages offered to suit your needs
Price: one- time fee $47 for personal use and $67 for commercial license
Service: Produces animation videos using the internet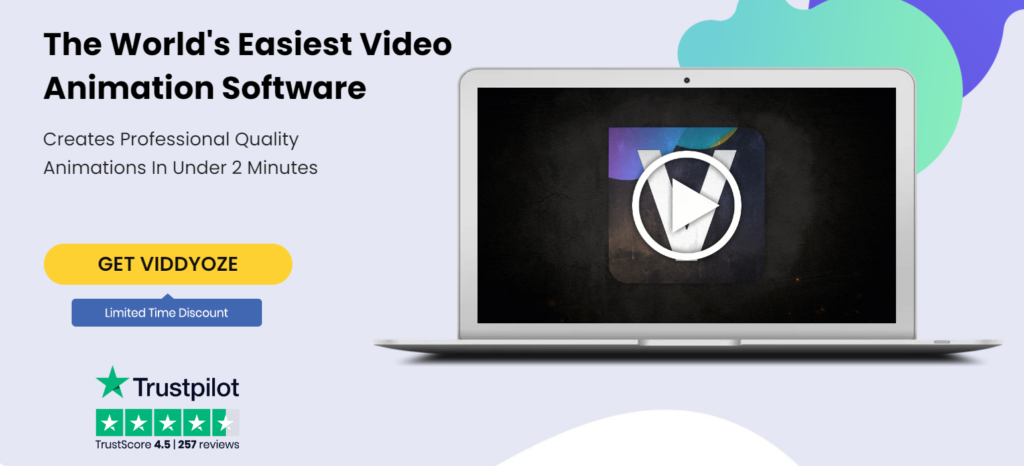 What it does: viddyoze is a great tool to produce awesome animation videos, suitable for any purpose and occasion. The cloud-based software lets you create all kinds of powerful animation for your marketing needs, landing page, youtube and other social platforms and much more with just a few clicks.
How it works: Begin by choosing your desired templates from the many options available. Then personalize and customize the template, edit and replace objects on the screen, add your logo, text, images, change colours and other elements, creating incredible videos with minimum work.
You can add intro text or logo, call-to-action button, text or logo for outro videos; create animated videos for marketing stories. Also, have clickable animations right inside the videos, watermark with your brand's name or logo, live-action animations, filters for movies, unlimited templates base and much more, making it an incredible platform for experienced and new video makers. You also have a 30 money-back guarantee, if you are not completely satisfied with the tool.
Standout features:
Create stunning 3D animation within minutes
Cloud-based application, no software to install, so easily access it from any device
Easy to use, no experience needed
Price: $77 for personal license and $97 for commercial license
Service: Creates smart video content

What it does: Vidgeos is a smart video creation application that helps you create viewer specific videos, instantly detecting and translating the text of the video to the language of each viewer. The cool text translation feature and other smart elements that automatically adjust videos to match audience location enhance video content's engagement quotient in many folds. It allows you to expand your client reach to the global markets. You can use them for global marketing, email and affiliate marketing, instant pro branding, interactive & live videos, instant video publishing and more.
How it works: The software has an intelligent text translation feature, easy to use drag and drop editor, viewer specific LIVE smart videos and elements, enabling you to produce attention-grabbing, creative custom marketing videos very quickly. It has instant video processing tool, one-click PRO animations and marketing CTA's & Opt-in forms, cool animations and SMART elements, pre-built templates that lets you develop video effectively from scratch with stunning animations and effects.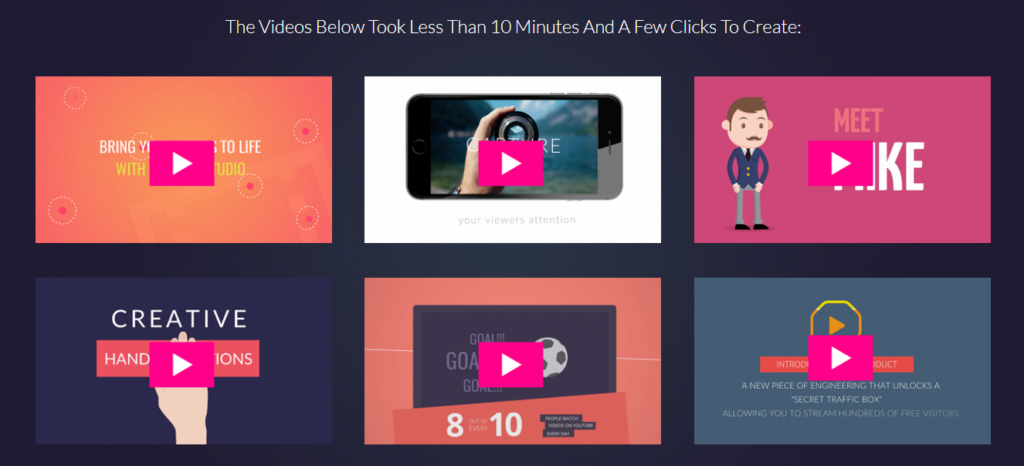 The software helps create robust sales and marketing videos in literally minutes. The smart features will significantly expand your video reach and client conversion ability, taking it to the global marketplace by using a live interactive video that speaks specifically to each individual. It also has 30 days money-back guarantee if you are not completely satisfied with your purchase.
Standout features:
Intelligently detects and translates the text in the video to the language of the viewer
SMART elements display the viewers time, date, city and country instantly
Ultra easy to use drag & drop editor
Price: $67/ month with developers rights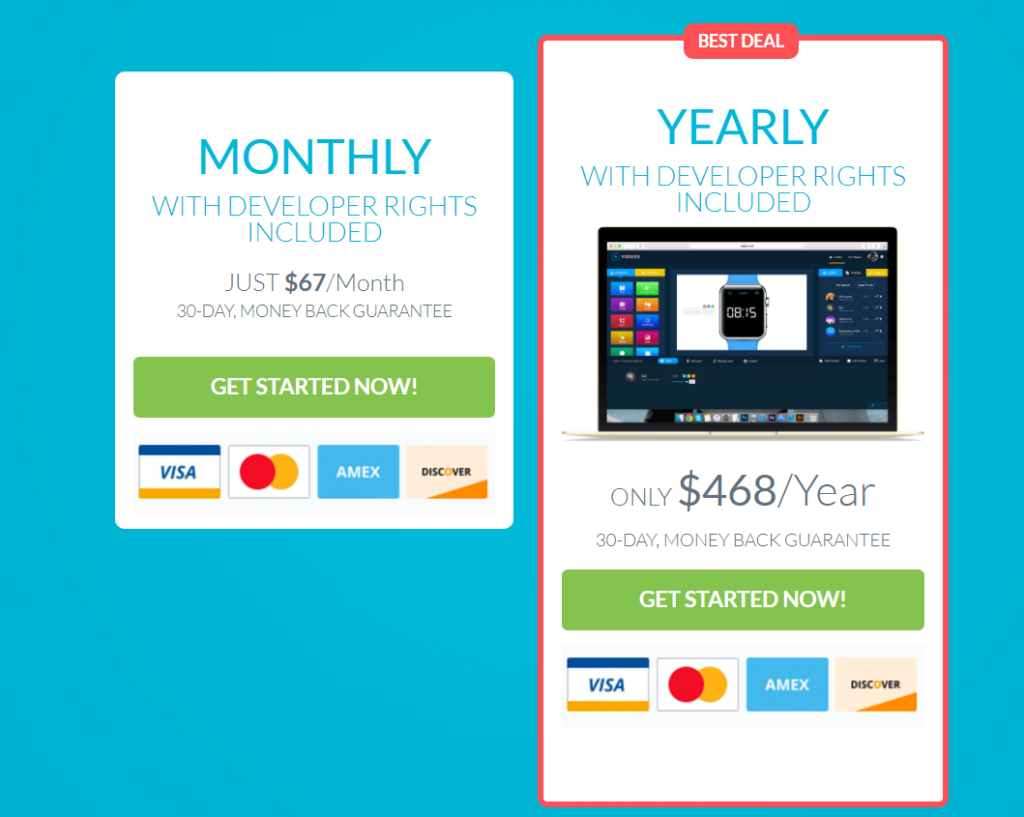 "All our dreams can come true, if we have the courage to pursue them." – Walt Disney.
Related Posts:
8 Best AI-powered tools to power up your LinkedIn profile
How Professional Quote Generator Increases Your Business Competency