Somebody has rightly said that the biggest battle for this generation would be 'abundance'.
The same is the case with Hosting services. Those who are new to blogging or creating websites will have a hard time narrowing down the best web hosting service suitable to them.
What are the important metrics to chose a Hosting Service:
Speed: This can make or break a business. Google's standard is 200ms for a good website. Visitors are impatient these days. If your site doesn't load quickly the visitor will visit your competitor's website and if their website is fast, the user will make the transaction too and you have lost a customer.
Customer Service: A good customer service team can quickly resolve your issues related to the website as and when required without hampering your business further.
Price: It should not burn your pocket. You should be comfortable paying the price against the features you need.
Security: One should not overlook this aspect of the feature as it can turn out to be devastating for the business
A nice balance between all these metrics in regards to what your website requires should help narrow down a good web hosting service provider for your business.
We have listed down a few good hosting services,based on our experiences in regards to India. You can choose from the list which is best suitable for you.
Best Web Hosting Services in India 2020
Hostinger offers 99.9% Server uptime, full security & 24X7 chat support. It also provides free SSL which is quite essential for the Website. Hostinger also offers a free domain with its professional & Business plans.
Hostinger has plans starting from $0.80 per month for Single Website which is quiet reasonable for people who are just starting for Blogging. If you further have plan to continue in the field of web-development or digital marketing, you can go for premium plan.
Hostinger offers 30 days Money-Back trial.
They have server locations here in India and the USA. It has got customers all around the world. Inmotion Hosting Provides an Uptime Guarantee of 99.9%, which is the best in the industry. If they fail to deliver on the Guarantee they will compensate for the Month's Charges.
Inmotion Hosting has plans starting from $4.99 per month for 10GB of Disk Space. They offer services in these categories; Linux-based, Windows-based, VSP, Dedicated Servers, Cloud-based, Reseller, WordPress.
With almost all of their packages, you get free unlimited email accounts. It has plans for Shared Hosting starting from $2.49 per Month.
They have a 24X7 good customer support team.
Bluehost now hosts more than 2 million websites around the world. They have servers in the USA. They are very popular in India. If your target audience is international, Bluehost is a good choice but not if your business is serving mainly India Residents.
They have an Uptime guarantee of 99.99% with good security features.
Bluehost has various packages viz. Shared, VPS, Dedicated, WordPress, WordPress Pro, and e-commerce. They have plans starting from INR 199 per month.
You can reach out for customer support via the ticketing system or call. An issue which we found here is that their support team is a bit mix and match with experiences and trainees. They have high renewal rates which are obvious as they run discounts for the first year for starters.
They have an Uptime Guarantee of 100%, which is brilliant. They will compensate for a day's hosting cost for every hour of downtime.
They have no servers in India. Their speed is a tad low compared to competitors but it is not a big issue. DreamHost has free email accounts, SSL Certificates, and domains (for one year if you pay the complete year's charges upfront) with almost all of their products. In the starter pack, email accounts are not included. They offer shared, dedicated, WordPress, VPS, and Cloud services.
The customer support of DreamHost is good. They do not have Call service for support but their response to tickets is fairly quick.
Their plan starts at $ 2.59 per month.
As the name suggests, Green Geeks is an eco-friendly web hosting company. They put back 300% of the power they consume back into the grid using renewable energy.
They have data centers in Phoenix, Chicago, Montreal, Toronto, and Amsterdam. Green Geeks guarantee 99.9% uptime. You are provided with a very good speed on which you can rely if you choose to go ahead with Green Geeks as they use SSD.

They provide services in shared, VPS, WordPress, and reseller hostings with prices starting from $2.95 per month. You get free SSL certificates with all their plans.
Support service is also good with technical support available 24 X 7 via email, chat, and telephone tickets.
Interserver Hosting is one of the oldest Hosting Platform. Plans here starts here at as low as $6 per month. Their USP is the renewal cost. Unlike other hosting Platforms where you may see increased subscriptions at the time of renewal, Interserver Hosting guarantees lifetime renewal of your hosting plan at the same price as you paid at the time of making the First Purchase.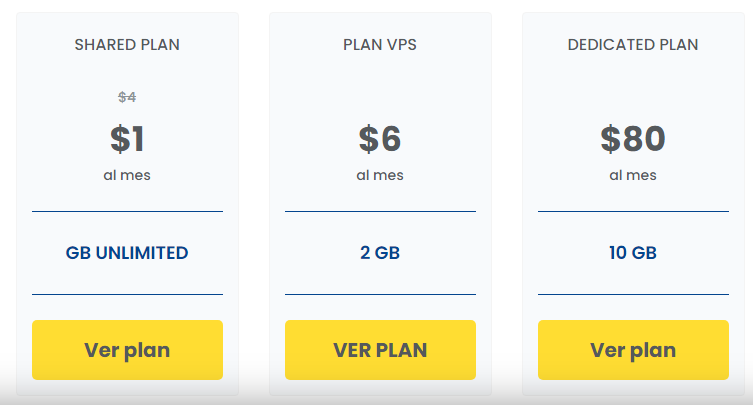 Other Features include:
Free Website Migration
Free Email Account
Easy to Use Control Panel
Free SSL Certificate
24*7 Live Chat Support
GoDaddy is good for you if you have a basic requirement. The speed is top-notch. Their Customer Support is good but not the best. It gets your job done though.
They do not have a free SSL certificate which is a bummer. You have to pay extra for it.
GoDaddy's user interface lets you down a little bit. But as we said if your requirement is basic, it is for you. Their basic plan is for Rs.99 per month. They provide all types of hosting systems and have a good brand name.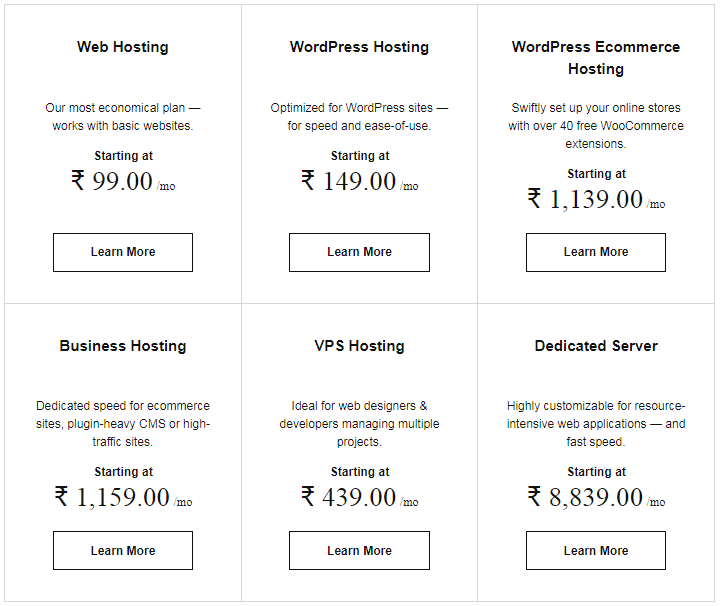 Every hosting service discussed has its pros and cons. It is up to what is best suited for you and your business. If your business is more online reliant it is suggested to go with premium hosting services with good speed and customer support system. And if you have a basic requirement then you can choose accordingly. While deciding on a service you start with keeping speed, security, customer support, and price in mind as we discussed.
Related Posts:
8 Best AI-powered tools to power up your LinkedIn profile
How Professional Quote Generator Increases Your Business Competency